Chemtex BioBubble Floorcoat
Floor Anti-Virus Coat For 7-Days Protection
Pack of 1
₹195 Inc. GST
Floor Antimicrobial coating germ free for up to 7 days with each use at an effective cost of 5 paise per square feet, reducing the need for daily detergent and phenyl cleaning in high foot traffic areas.
Composition:
Retentive Silane Active, Amine Oxide, Alkyl Long Chain, Amphoteric Surface Active Agents, Essential oils, Excipients
How to use:
• Remove dust by vacuuming/ brooming/ mopping
• Mix 20ml of FloorCoat with 2.5ltrs of water
• Wet mop floor with this solution
• Allow air drying for 5 – 10 minutes
Have questions? Read our FAQ's here
Package Contents
1 x 200ml bottle of BioBubble FloorCoat
Chemtex BIOBUBBLE FLOORCOAT protects floor surfaces by creating an electrostatic layer which acts as an antimicrobial shield for 7 days. It is hard water compatible, aids in stain removal and de-odourizes.
Chemtex BIOBUBBLE FLOORCOAT is based on Quaternary Silane which electrocutes pathogens upon contact. It is non-toxic, organic* and easy to use; preventing the chances of surface based cross transmission of diseases, and ensuring long-lasting protection against bacteria and virus.
Step 1
Mix 20ml Of Floorcoat In
2.5 Litres Of Water
Step 2
Mop The Dust
Free Floor
Step 3
Let It Dry For
5-10 Minutes
Advantages of Chemtex BioBubble
Long Lasting
The coating is long lasting and saves from the hassle of daily sanitization.
Preventive Approach
Safe and long-term anti-microbial function
Organic
Naturally derived and completely biodegradable, prevents mal odour and bio film formation
Non Leaching
Not a reactionary technology, but completely non leaching in usage
Non Corrosive
Compatible with most metal surfaces
Cost Effective
Saves on cost, less laborious on a daily basis
Chemtex Biobubble on application forms a defensive layer around the application surface which acts just like a series of invisible spike structures 10 nm in length (as depicted) which perforate the microbial cell membranes as soon as they come in contact with the surface. Even effective on genome size of 5 kB.
Chemtex Biobubble takes a preventive approach, forming a cationic layer on the application surface which acts like a series of "spikes" that pierce through the microbial cell membranes on contact. The layer remains intact for a considerable period of time and keeps on its antimicrobial performance for the same.
This defensive bubble layer remains intact for days and keeps on its antimicrobial performance for this period.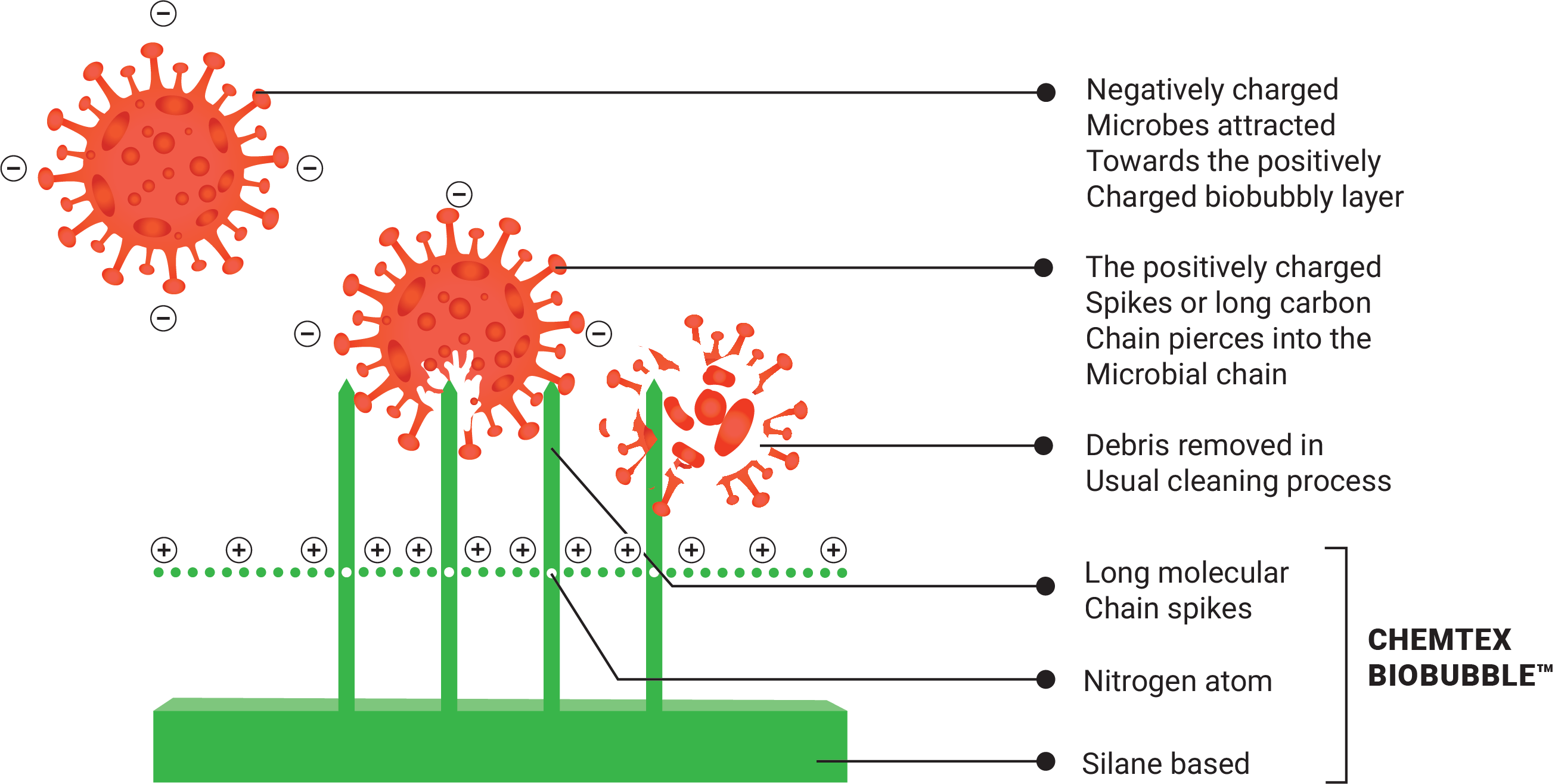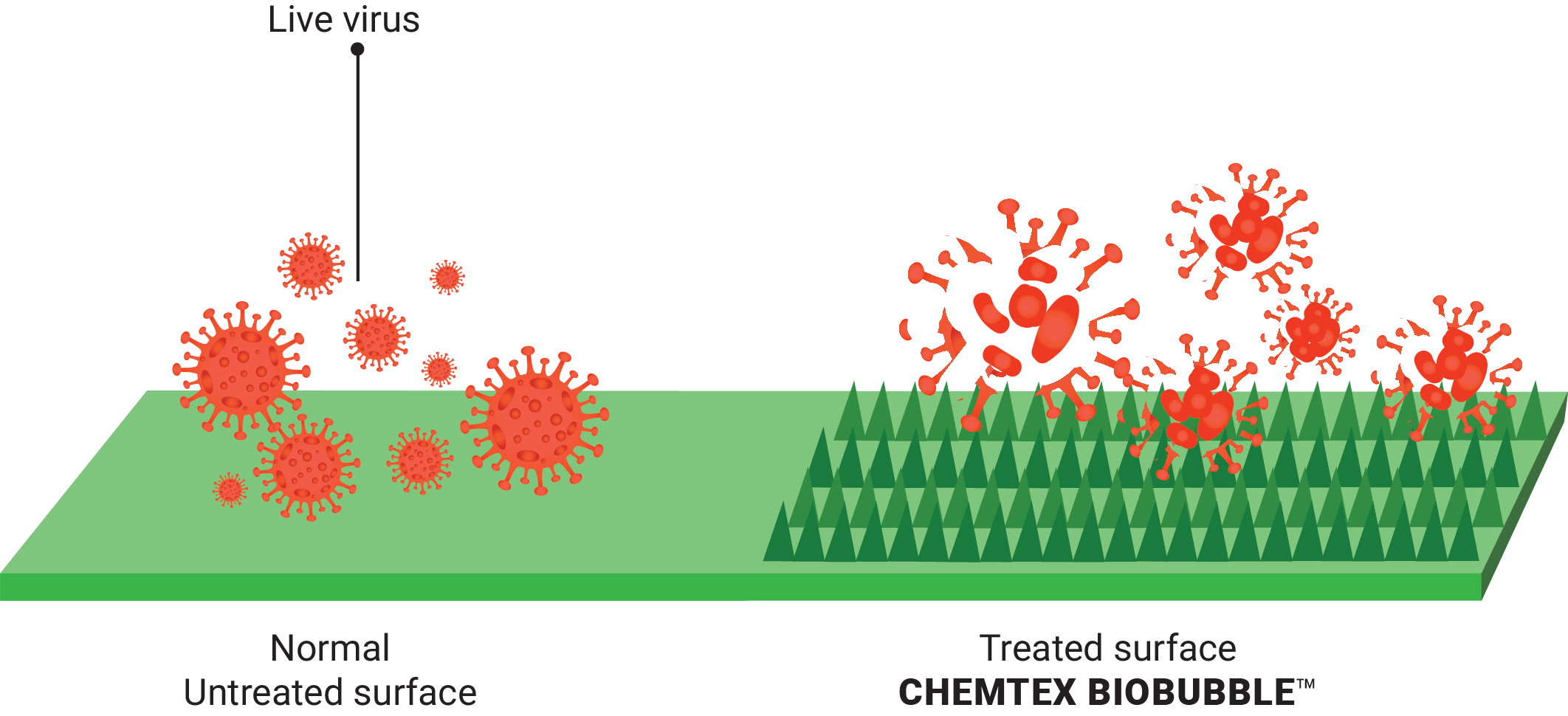 Each Biobubble molecule is made up of three natural parts
SAND
Silane derived from "Sand" which serves as
a Surface Anchor
NITROGEN
Nitrogen derived from "Air" which
serves as a Bonding Agent
CARBON
Quat-chain derived from Carbon serves
as a spike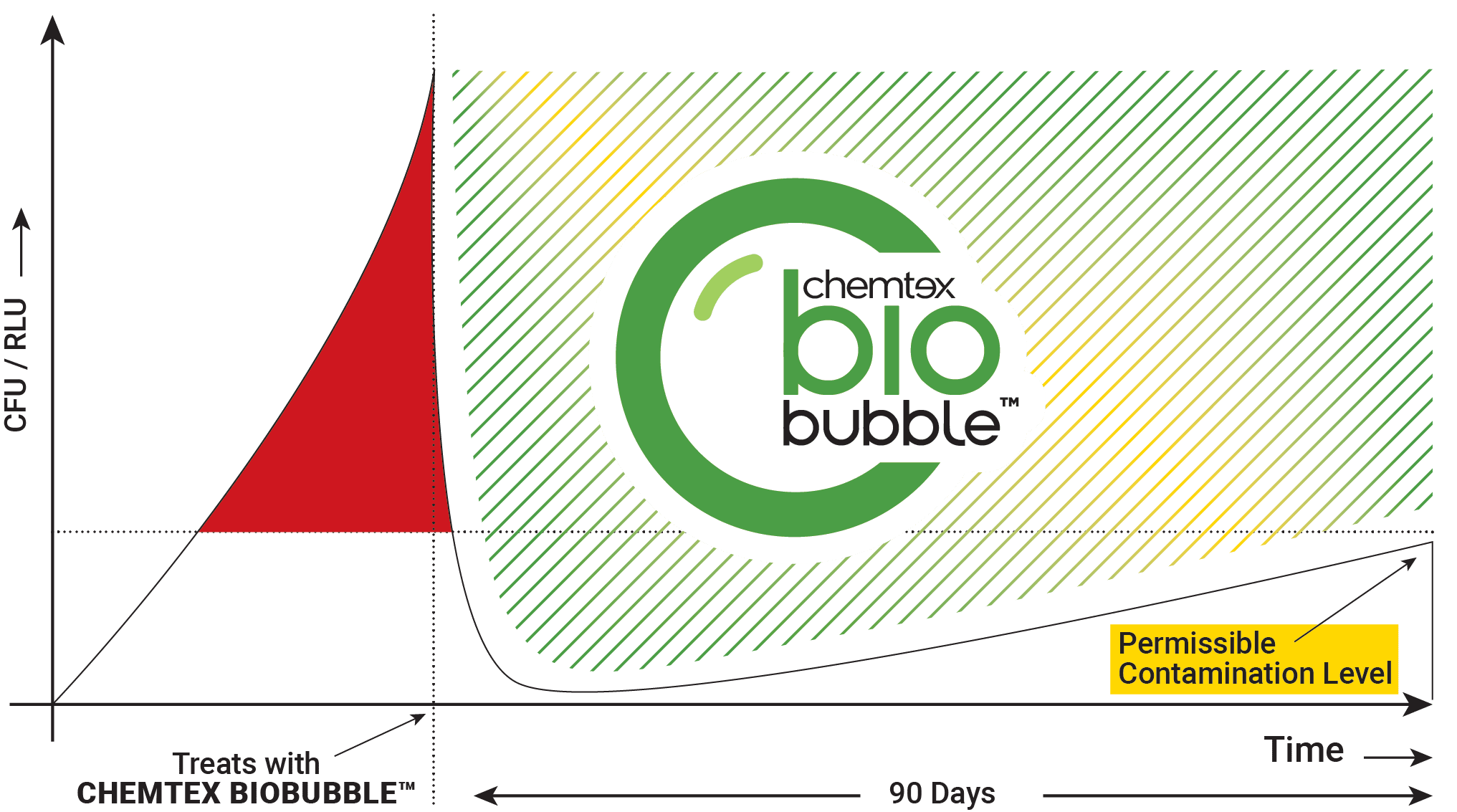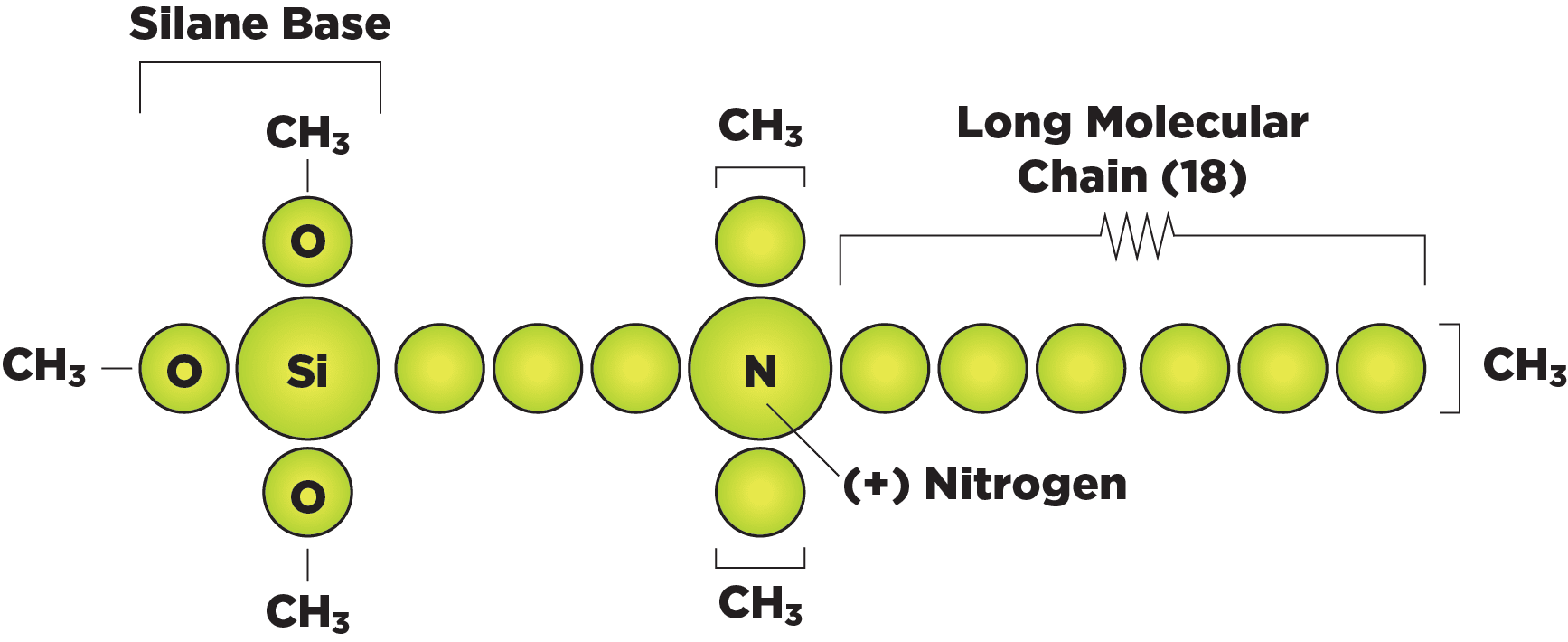 PREVENTION IS THE ONLY CURE
Fight against COVID-19 and protect your family, friends and colleagues