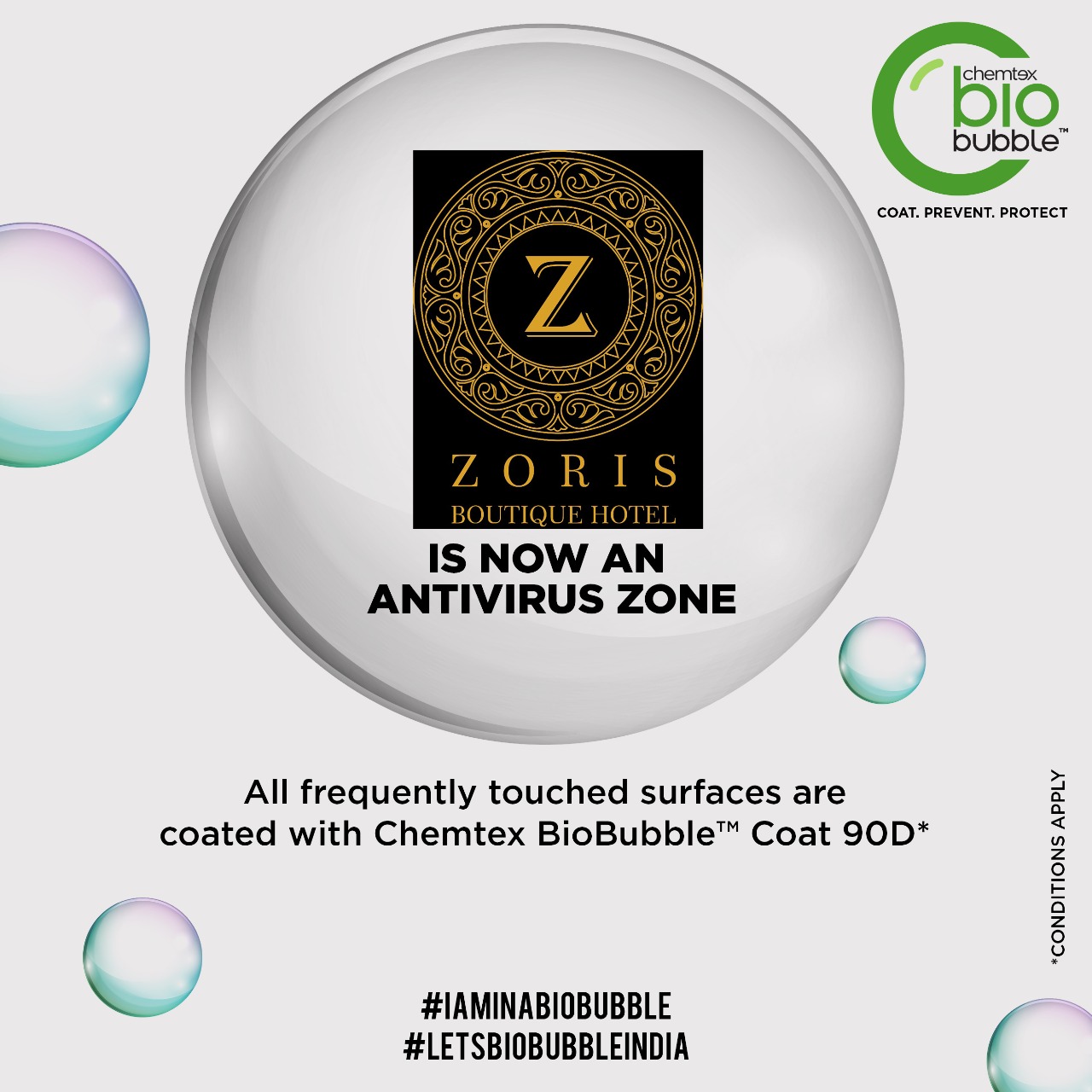 Folks in Bhubaneswar, Now Luxuriate Your Weekend Blues with Exquisite Drinks and Platters that best compliments itself.
Fear of Infection? Worry Not, This Space is Now in a Chemtex BioBubble.
Zoris Boutique Hotel and Top Notch Club, Kitchen & Sky Lounge exemplifies exactly what Bhubaneswar has to offer. Obvious choice for many in town when it comes to Family Gatherings, Business Meetings, Celebrations, Zoris is unbeatable when it comes to impeccable service and modern indulgence that are both enticing as well as operative. In view of prevailing situation, the management has really pressed upon the safety of their guests and staffs. Hence, they opted for the best disinfection service in Eastern India, Chemtex BioBubble Antimicrobial Coating Service.
All common touch points such as Door Knobs, Handles, Staircase, Table Tops, Chairs, Railings, Elevator, Staircases, Glass Surfaces, Counter Tops, Washroom Surfaces now safe from germs attack for the next 90 days, courtesy Chemtex BioBubble Antimicrobial Coating Service.
What is Chemtex BioBubble Antimicrobial Coating?
It is a Retentive Silane based long lasting antimicrobial coating service which when applied, kills all surviving germs and pathogens on contact and prevents surface based cross transmission of diseases. It protects surfaces for straight 90 days on single application, discarding the need for daily disinfection. The formulation used is 100% organic, safe and non-toxic.
Thanks to digital platforms which helped us to reach them. And upon agreement, instant service was deployed.
We also provide 90day antimicrobial coating service for commercial and residential plots, 100 times more effective than regular sanitization services.