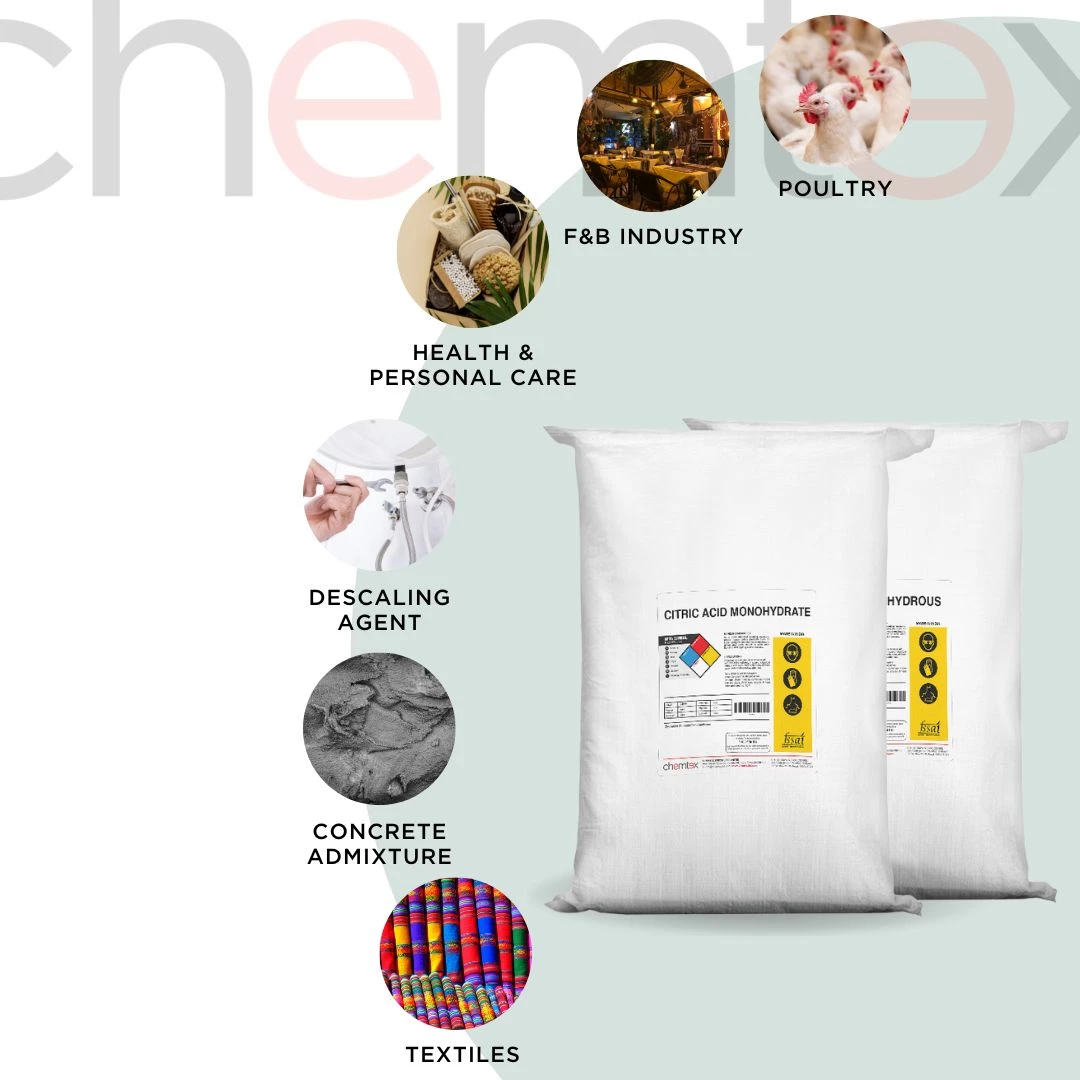 Citric Acid Manufacturers produce a high amount of citric acid owing to its numerous uses; as an acidifier, as a flavouring and chelating agent.
Citric Acid is used in Food & Beverage, Pharmaceutical, Health & Personal Care products, even agriculture and animal feed. Mainly used as an acid condiment, flavouring agent and preservative in food and beverage and as pharmaceutical excipients in pharmaceutical industry. It is also used as antioxidant, plasticizer and detergent builder in chemical, cosmetics and detergent industries.
The citric acid market is expected to grow at a CAGR of 6% over the next five years.
According to Transparency Market Research (TMR), the global citric acid market was valued at 5.2 billion dollars USD in 2016 and is projected to reach 7.3 billion dollars USD by 2022, growing at a CAGR between 5.6% and 7.1% during the forecast period.
What Is Citric Acid?
Citric acid is an organic compound with the chemical formula C6H8O7. It is a colorless crystalline solid that has a sour taste. Citric acid is the most widely used weak organic acid and pH-control agent for F&B, cosmetic, pharmaceuticals and technical applications.
How Does Citric Acid Work?
Citric acid is an organic compound with the chemical formula C6H8O7. It is a weak acid with a pKa value of 3.2. Its molecular weight is 176.16 g/mol. It has a melting point of 110°C (230°F) and a boiling point of 180°C (356°F).
Citric Acid monohydrate Vs Anhydrous
Citric acid can exist as either the anhydrous form (free of water) or as the monohydrate form. The anhydrous citric acid has no water of crystallization whereas citric acid monohydrate has a water molecule associated with one citric acid molecule.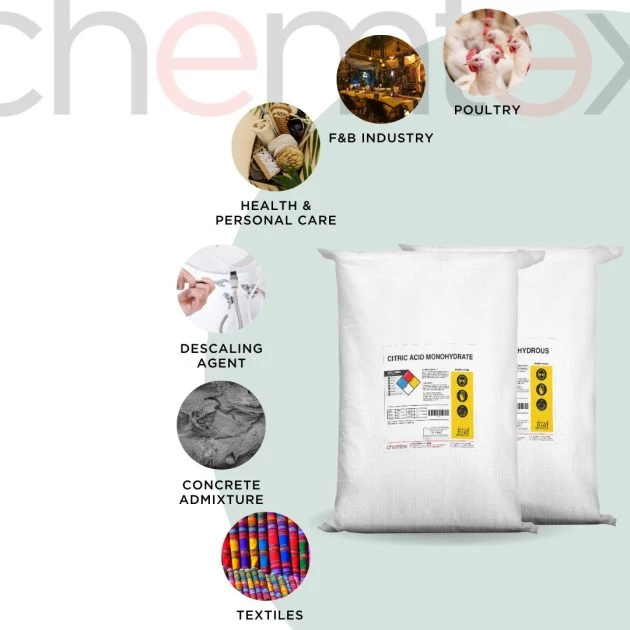 Where to buy Citric Acid?
Chemtex Speciality Limited Manufactures Citric Acid Monohydrate and in Anhydrous form. Citric acid monohydrate is available in various granulations.
Main functions of Citric Acid Monohydrate
pH adjuster
Acidifier
Chelating agent
Buffering agent
Retarder
Antioxidant
What Are Some Applications of Citric Acid?
F&B Industry: Widely used organic acid for pH-control, flavouring agent, antioxidant, preservative.
Health and Personal care: As a preservative and pH control agent in baby products, make-up, lipstick, bath products, soaps and detergents, hair dyes and colors, and hair and skin care products.
Agriculture/ Poultry: Citric Acid Monohydrate can be used as antioxidant and pH regulator in Agriculture/ broiler feed.
Cleaning agent in plumbing to remove scale.
As anti-crease agent in textiles to prevent formaldehyde contamination.
As an additive in plastic manufacturing to improve mechanical properties.
As concrete retardant to improve concrete quality.