We have made procurement of safety chemicals easier with our tailor-made Bio-Security Package adhering to WHO guidelines and our years of expertise.
A complete Bio-Security Solution for you, your loved ones and your community!
With three options to choose from as desired, Chemtex Bio-Security Package can be ordered online and picked up or delivered to your homes.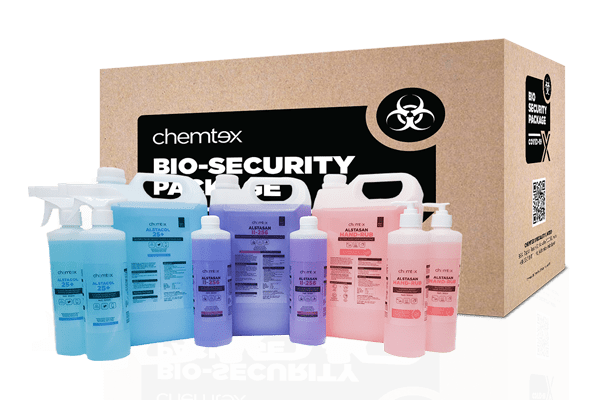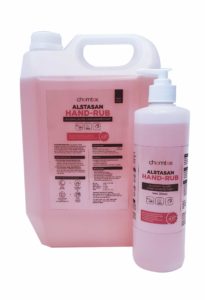 ALSTASAN HAND RUB
Alcohol based Hand Sanitizer
Application
Hands, elbows, exposed skin.
How To Use
Squeeze necessary amount onto your palms and rub all over your hands, nails and grooves. Air dry.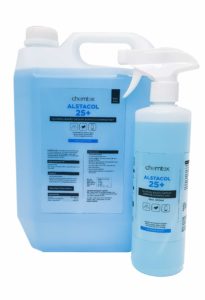 ALSTACOL 25+
Alcohol based Surface Disinfectant
Application
For most contacted surfaces such as knobs, buttons, electronics, railing, glass etc.
How To Use
Ready-To-Use. Aim, spray, and wipe after 30 seconds.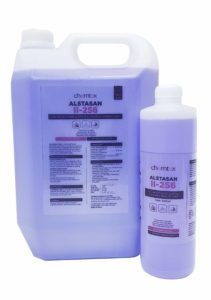 ALSTASAN II 256
Hard Surface Cleaner and Disinfectant
Application
Spraying in Infected/ critical areas, high traffic public areas such as metro stations, movie theatres, malls, showrooms, offices, F&B preparation areas, pavements, floors, railway platforms, dip tray for shoes, air fumigating of closed indoor spaces.
How To Use
Simply dilute at 40ml/10ltrs water and spray/ mop on floors, tiles, bathrooms sink, ceramics etc.
WHO Formulation
The kit contains formulations approved/ recommended by WHO (World Health Organization), CDC (Center of Disease Control), EPA (Environmental Protection Agency) USA to prevent the spread of virus, manufactured in Chemtex Speciality Ltd's GMP approved state of art facility, under license with Drug Controller of India.
Handling Measures
and Precautions
Alcohol based products are highly flammable. Keep away from open flames, heated places. No stringent measures required for handling. Should not be injected. Harmful if swallowed. In case of eyes, rinse immediately with fresh water and obtain medical attention.
Should be stored in original vented containers, away from heat, direct sunlight and combustibles. Store in a cool and dry place. Please refer label and SDS for details.