Alcohol based Hand Sanitizer
According to the World Health Organization (WHO) and the U.S. Centers for Disease Control and Prevention (CDC), hand sanitizer is one of the best tools available to help prevent the spread of germs. While washing hands with soap and water is the best way to ensure hands are properly washed and rid of germs, it isn't always a viable option.
Alcohol based Hand Sanitizer on application rapidly inhibits the infectious activities of microbial agents on skin surface. Alcohol-based formulations are always a better choice for sanitation and disinfection in almost all healthcare situations. Formulations of alcohol based type are preferable to hand washing with soap and water in most situations. It is generally more effective at killing microorganisms and viruses, and better tolerated than soap and water. Hand Rub alcohol based is suitable for hygienic and surgical rub-in hand disinfection. It is used as a ready-to-use alcohol-based rub-in product – independently of water and wash-basin – to prevent infection in all areas of health care facilities where hygiene is important as well as in home dialysis and when travelling. Chemtex Speciality Limited is a pioneer in the field of alcohol-based hand disinfectant.
With employees using their hands to type up reports, shake hands with new clients, open doors, and share community spaces, it might be a good idea to encourage extra hand hygiene solutions for your facility. By placing hand sanitizer in strategic locations throughout the facility, you can encourage employees to improve their hand hygiene and create a healthier indoor environment.
COVID-19
Common Issues with Hand Sanitation:
Most hand sanitizers in the market may contain the recommended 60% alcohol content but prolonged usage leads to dry skin, irritation, and agitated infection, and without the use of additional disinfectants, loses potency as the alcohol evaporates.
Benefits with ALSTASAN HAND RUB: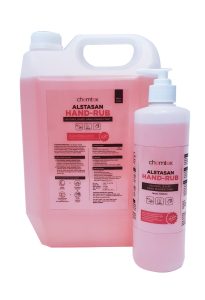 Easy to use rub in hand disinfectant with instant and sustained antimicrobial action
Aided with CHG (Chlorhexidine Gluconate) making it extremely potent by enhancing the kill rate. CHG is often used in mouth wash, wound cleaning and surgical hand washing. It also enhances the spreading of hand rub.
Addition of emollients and moisturizers does not cause skin cracking and leaves skin smooth and soft, as compared to other alcohol based hand rubs.
Key Features and Benefits
Broad spectrum activity against bacteria, yeasts and enveloped viruses such as Corona
Aided with moisturizers; tender on skin and replenishing
Increases skin hydration with regular use
Increased skin tolerability with long-term use
Alcohol based fast immediate action
No need for water and towel
Prolonged residual effect
Handling Measures
and Precautions
Alcohol based hand sanitizers are highly flammable. No stringent measures required for handling. Prolonged usage above recommended dosage cause dryness and irritation. Should not be injected. Harmful if swallowed. In case of eyes, rinse immediately with fresh water and obtain medical attention.
Should be stored in original vented containers, away from heat, direct sunlight and combustibles. Store in a cool and dry place. Please refer label and SDS for details.