EDTA | Ethylenediaminetetraacetic acid
Chemtex Speciality Limited is a leading EDTA manufacturers in India for use as sequestering or chelating agents in various industrial applications like water treatment, F&B, laboratory processes, cosmetics, textiles, etc.
What is EDTA?
Ethylenediaminetetraacetic acid is a weak acid used as chelating agent forming stable, water-soluble chelates with polyvalent metal ions in a wide pH range. 
How it works?
The formulation reacts with metallic cations, forming a stable rigid compound and making it easily excretable from the application system. It is preferred over other chelating agents owing to its ability to form strong covalent bond with metallic ions as other inorganic contaminants may react with those metal ions, forming their own compounds.
Key Features and Benefits
Widely used chelating and sequestering agent

Prompt action; Optimum chelating efficiency

Exhibits slime dispersing property

Does not contain added fragrance

Broad spectrum application
Chemtex Speciality Ltd manufactures Tetrasodium EDTA (4Na), Disodium EDTA (2Na), EDTA Trisodium (3Na) and Pure Acid form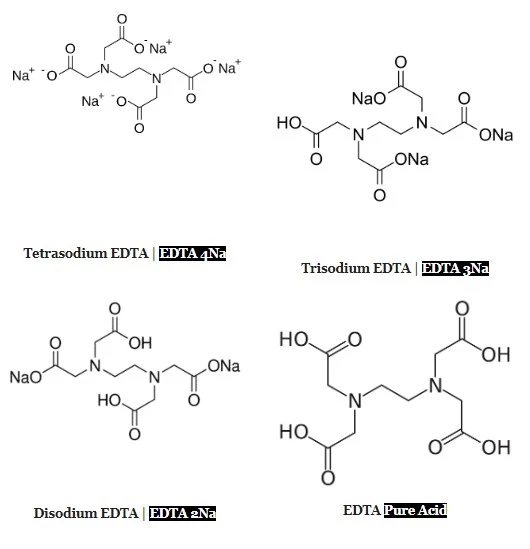 EDTA manufacturers make specific salts for specific end-use applications. Broad spectrum usage include:
Waste water treatment: Widely used chelating agent for removal of remove toxic heavy metal ions in wastewater treatment.
Textile industry: Prevents metal ion impurities from modifying colours of dyed products.
Pulp & paper industry: It inhibits the ability of metal ions, especially Manganese from catalyzing the disproportionation of hydrogen peroxide in chlorine-free bleaching.
Laundry: Reduces water hardness by dissolving scales of Ca2+, Mg2+, and cations, which are then less likely to interfere with soaps and detergents
'Scrubbing': Removes hydrogen sulphide from gas streams. This conversion is achieved by oxidizing the hydrogen sulphide to elemental sulphur, which is non-volatile.
Laboratory: Widely used for scavenging metal ions.
Cosmetics: Used in shampoos, cleaners, and other personal care products as a sequestering agent.
Ethylenediaminetetraacetic Acid is a transparent, water-soluble molecule belonging to a class of chelators that bind – chelate – metals.
EDTA Tetrasodium Salt (4Na) | CAS No. 64-02-8
| | |
| --- | --- |
| Properties | Typical Value |
| Form | Crystalline Powder |
| Appearance | White |
| Assay | 99.0% wt. (Max.) |
| Sulphate Content | 0.05% wt. (Max.) |
| Chloride Content | 0.01% wt.  (Max.) |
| Solubility | Soluble in cold water |
EDTA Trisodium (3Na) | CAS No. 150-38-9
| | |
| --- | --- |
| Properties | Typical Value |
| Form | Crystalline Granules |
| Appearance | White |
| Assay | 99% wt. (Min.) |
| Sulphate Content | 0.005% (Max.) |
| Insoluble Matter | 100 ppm (Max.) |
| Molar Mass | 358.19 g/mol |
| Chelating Value | > 255 mg Ca / g |
| Solubility | Soluble in cold water |
Disodium EDTA (2Na) | CAS No. 139-33-3
| | |
| --- | --- |
| Properties | Typical Value |
| Form | Crystalline Granules |
| Appearance | White |
| Assay | 99% wt. (Min.) |
| Sulphate Content | 0.005% (Max.) |
| Insoluble Matter | 50 ppm (Max.) |
| Iron Content | 10 ppm (Max.) |
| Lead Content | 1 ppm (Max.) |
| Solubility | Soluble in cold water |
EDTA Acid (Pure) | CAS No. 60-00-4
| | |
| --- | --- |
| Properties | Typical Value |
| Form | Clear Liquid |
| Appearance | Colourless |
| Assay | 99% wt. (Min.) |
| Chlorine Content | 50.0 ppm (Max.) |
| Chelation Value | 335 mg Ca / g |
| Iron Content | 10 ppm (Max.) |
EDTA Dipotassium Dihydrate | CAS No. 25102-12-9
| | |
| --- | --- |
| Properties | Typical Value |
| Form | Crystalline Powder |
| Appearance | Off-White |
| Assay | 95% wt. (Min.) |
| Iron Content | 0.005% wt. (Max.) |
EDTA Diammonium | CAS No. 20824-56-0
| | |
| --- | --- |
| Properties | Typical Value |
| Form | Crystalline Powder |
| Appearance | Off-White |
| Assay | 97% wt. (Min.) |
| Iron Content | 0.005% wt. (Max.) |