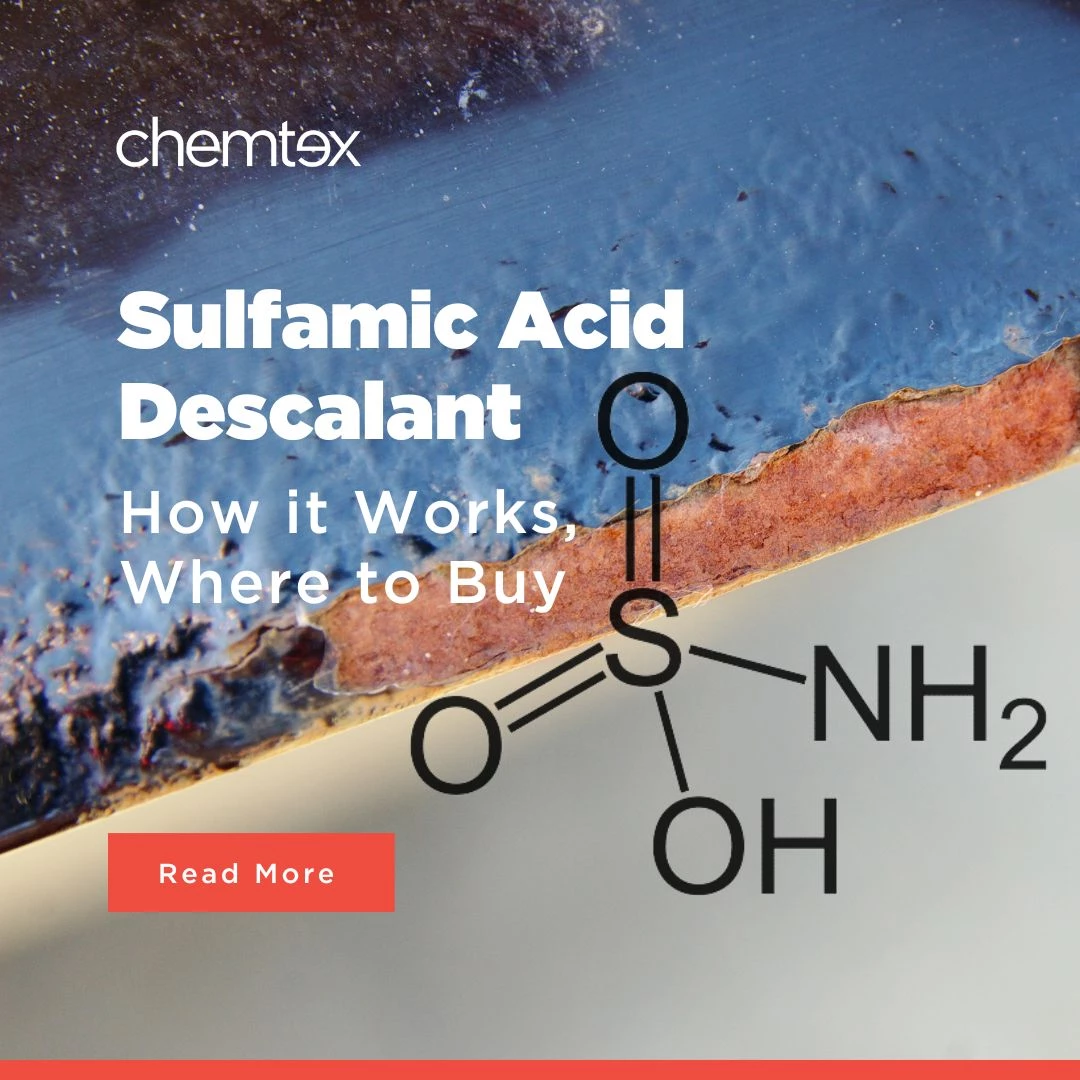 Sulfamic Acid - Industrial Descaling Chemical
Sulfamic acid (H3NSO3) is a super-efficient agent for descaling, used for cleaning domestic appliances and industrial equipment, and an acidic cleaning agent, mostly on ceramics and metals. In households, it is used as a descaling agent in detergents, cleaners and toilet cleaners for lime scale removal. It is considered highly effective in the removal of mineral scale deposits from industrial equipment and commercial machineries. One of the most common uses of sulfamic acid is for descaling heating coils and heated vessels.
Sulfamic Acid descalant for industrial uses include effective removal of scale and stubborn deposits from heavy-duty industrial applications like Iron and Steel, Thermal Power, Boilers, fertilizers & Chemicals, Sugar Processing, and others. It is safe to use on stainless steel, copper, and brass against acid attack. Furthermore, it does not react with the materials of construction, avoiding pitting, corrosion cracking, etc.
How Does Sulfamic Acid Work?
Sulfamic acid also called as amido sulfuric acid with the formula H3NSO3 is a white crystalline solid which is non-hygroscopic and stable. It is commercially produced from fuming sulfuric acid and urea, and classified as a strong inorganic acid.
Sulfamic Acid is an extremely efficient agent for descaling, it is known for cleaning rust, scale, and lime deposits from industrial equipment especially boilers, condensers, cooling towers, pipelines, and commercial appliances. It finds application in many desalination plants to clean the heat exchanger for the removal of the scale of mineral deposits, removing excess grout on tiles, etc.
Sulfamic acid descalants work by removing calcium and magnesium ions from water. These minerals cause scales to build up inside pipes and plumbing fixtures. This scale build-up can lead to clogs and other issues with your home's plumbing system which leads to massive loss.
Eliminating limescale deposits is required for running machines efficiently and smoothly, preventing equipment malfunction and failure. Sulphamic acid has desirable water-descaling properties, and low volatility, so it is commonly used as a chemical descaler to resolve challenges. They also reduce the amount of chlorine that gets added to the water supply.
Hard water is one of the most common problems people have when they first move into their new homes. Learn how to solve this problem by using sulfamic acid descalant.
The GP grade of sulfamic acid is used for removing scales obtained from water in heating and cooling systems such as boilers, heat exchangers, condensers, jackets and coils. It descales hard water by removing calcium and magnesium ions from the water. This process removes minerals that cause scale build-up in pipes and fixtures. In addition, it also helps prevent mineral deposits from forming inside plumbing systems.
Other uses include Ingredient in fire extinguishing media; Urea-formaldehyde resins coagulator; Synthesis of nitrous oxide by reaction with nitric acid; Catalyst for esterification process.
Advantages of using Sulfamic Acid
Excellent remove hard-scale deposits, greasy foulants removal
Cost-effective & economical
Better than other corrosive
Provides metal protection
Good wetting characteristics
Where Can I Get Sulfamic Acid?
Chemtex Speciality Limited is one of India's leading manufacturers of sulfamic acid GP grade. The GP grade of sulfamic acid is used for removing scales obtained from water in heating and cooling systems such as boilers, heat exchangers, condensers, jackets and coils. Chemtex also manufactures industrial grade sulfamic acid, with aided inhibitors. Check out here today.