Petrochemical industry products transportation & storage
The second stage of the petrochemical industry, related to the transportation and storage of natural gas and petchem. Chemtex Midstream Chemicals serve a wide range of application, maximizing the asset value. The chemical solution delivers in all aspects of midstream treatment programs be it during transportation, storage, or in maintaining asset integrity.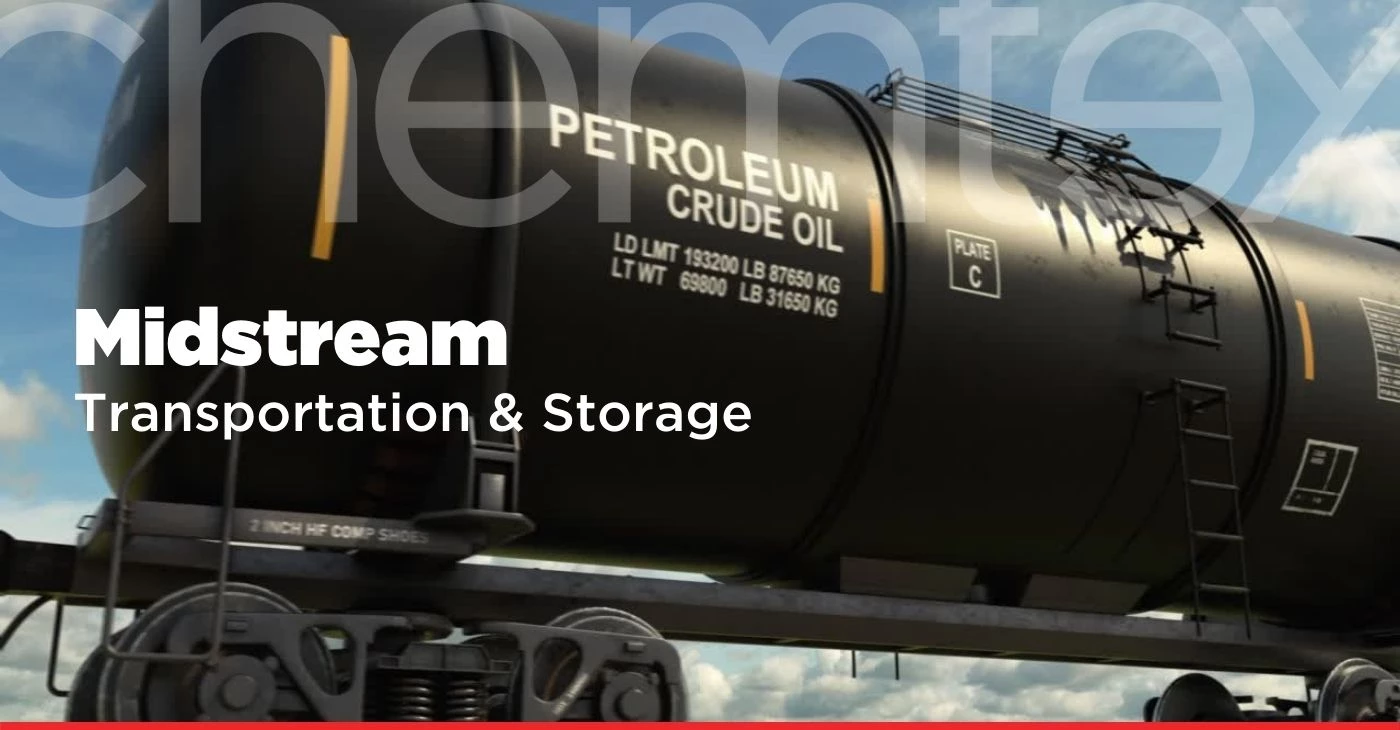 Components & Range of Midstream Chemicals
Midstream operations, involves the use of various oil channels, pipelines, oil-tankers,  for transportation of crude oil to various refineries. The sector involves huge installations of pipelines, transmission lines and machineries which requires the use of various utility chemicals for their optimum performance.
Midstream Pipeline Chemicals
Crude Line Corrosion Inhibitor
Crude Pipeline Corrosion Inhibitors gets adsorbed onto the metal surface, which leaves the hydrophobic group to form a water resistant organic film on the surface...
Hydrotesting Corrosion Inhibitor
Hydrotesting Corrosion Inhibitor provides excellent protection from Corrosion in interior Metal Surface, Pipelines, Vessels, Boilers, Storage Tanks and other Industrial Equipment...
Inhibitor additives for use in combating organic and mineral scale deposits in midstream pipelines and equipment, prevents deposition in production wells, water disposal wells, etc.
Read More
Paraffin | Wax | Asphaltene Inhibitor
Wax Inhibitors disperses the crystals formed in oil, removes wax deposits in pipelines and...
Pipeline Cleaning Chemicals, replaces the use of age old technology of mechanical cleaning...
Crude oil transmitted through pipelines, or large transportation needs to be stored before being sent to refineries. Storage tanks such as floating roof rank, fixed roof rank, bullet tank and spherical tanks are generally used for storage. Since crude are at pre-refined stage, adversities like corrosive gases, water vapor and fouling contaminants, are likely to surface up. These foulants may indulge in corrosion, scale deposits and toxicity of chambers.
Crude Tank Farm Additives
Sludge breaker that is a water based concoction of light hydrocarbon solvent to soften and break down heavy oils, tar and asphalt sludge deposits which are found...
Degassing additive for removal harmful, toxic and flammable gases from closed chamber or tank, reducing chances of most fire accidents...
Read More