Oilfield chemicals | Exploration & Production
The upstream or the first stage in the petrochemical industry refers to the exploration and production of natural gas and crude oil. The comprehensive application of Upstream Chemicals are in  'Exploration', 'Development' and 'Production', the three main components of upstream operations.
'Exploration and Development' is finding of "Oil & Gas Pool" and

"How to get it out"

'Production' seeing through complete extraction and transfer of crude to surface and storage.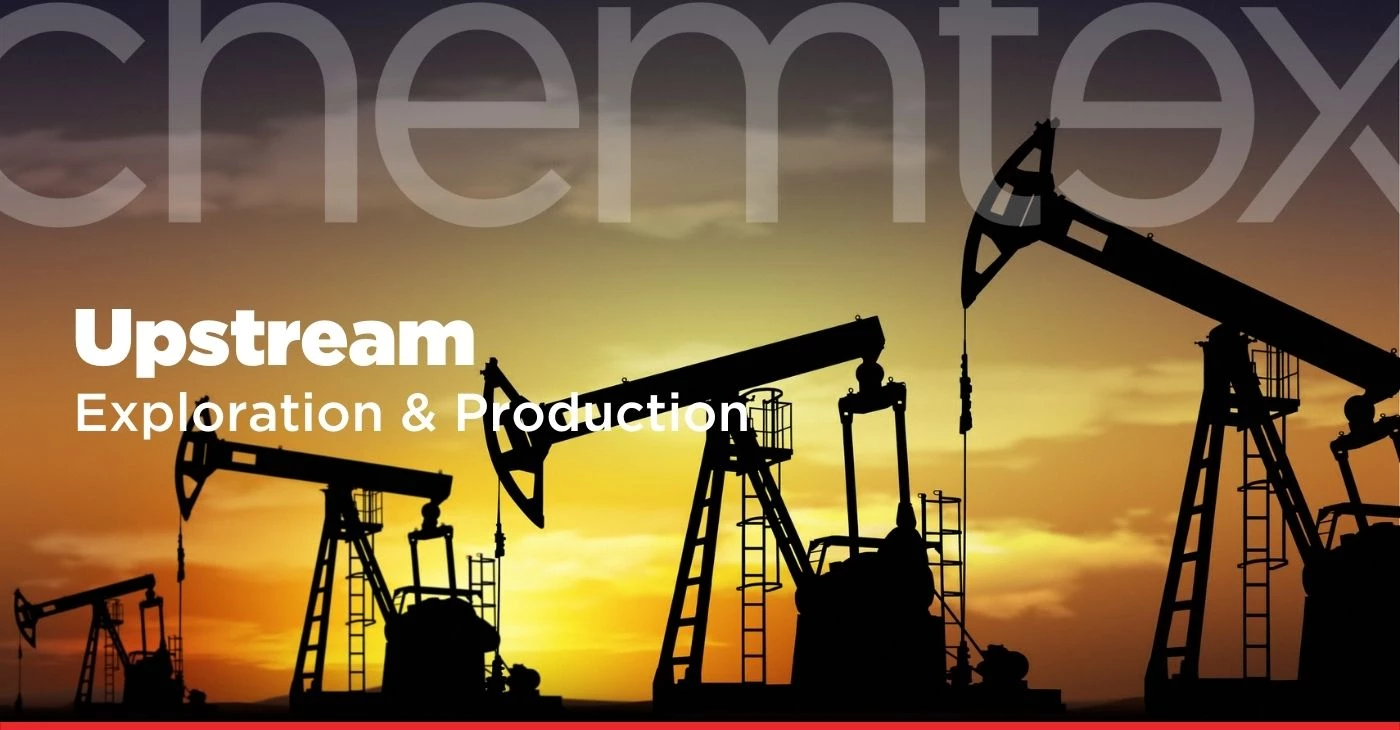 Components & Range of Upstream Chemicals
Upstream Exploration & Development
Upstream exploration involves the use of various methodologies and techniques to investigate or to assume potential well sites for crude extraction. The processes include the use of geo-mapping, surveying, soil sampling, coring, seismic imaging, and downhole logging which are complex, expensive, and require absolute precision for its conduction.
With reference to potential well sites, exploration can be categorized in two parts.
Onshore - Activities conducted on land away from water basin

Offshore - Activities conducted on under the sea / ocean bed
Chemtex brings its advanced expertise in laying down the speciality chemicals that meets and conforms almost all conditions and specifications of the well site. These chemical additives are categorically formulated to guarantee satisfactory rheological characteristics, suspension, fluid loss control, well bore cleaning and others.
Drilling and Mud Chemicals
Upstream Well Stimulation Additives
Post exploration and development, comes the production phase where pipings are installed, connecting the storage tank to crude reserve beneath the soil / water bed so as to extract the crude oil / gas.
During the flow of hydrocarbons to the storage, gases like carbon oxides, hydrogen sulphide, water vapor in fluid / vapor phase also comes out that not only contaminate the crude but also possess severe corrosive threats to the metallic structure. Chemtex's range of upstream production chemicals help in counteracting such attacks, assuring optimum protection to metal surface and monetary benefits.
Upstream Production Chemicals
Water Injection Chemicals